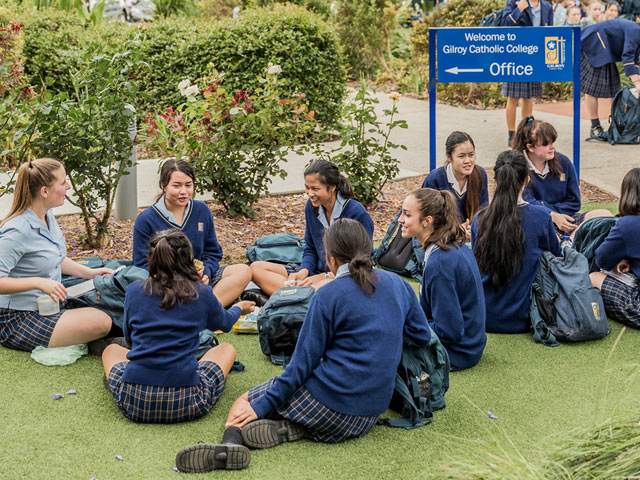 WELCOME TO GILROY CATHOLIC COLLEGE
We are a strong faith community where each person's relationship with Jesus Christ is central. The strength of this belief is highlighted by our College motto, Christ is my Light, and it is this belief that frames our College mission and values. Our community of students, parents and staff fosters a holistic education where we seek to develop each individual in the name of Christ. Together we seek to learn about self and others within the framework of our seven values: faith, service, community, respect, justice, compassion, and forgiveness.
23
Sep
2019
Term 3, Week 10, Days 6-10
Year 12: Classes as normal
Show More
Show Less
24
Sep
2019
Yr 10 Mathematics - Task 3 (all classes)
Year 12: Period 1-2 Boys- Awards and Mass rehersal (hand out candle lid) Girls- Brent Sanders
Year 12: Period 4. Dismissal.
Year 12: Recess & Period 3. Early lunch and activities at front of school for Yr 12 students & teachers
Yr 8 Geography - Task 2 (GEO4,6)
Show More
Show Less
25
Sep
2019
Yr 10 Photography (VPH) - Task 3
Year 12: Whole School assembly
Year 12: Graduation Mass (Gilroy Hall)
Year 12: Afternoon Tea (outside Library)
Year 12: Awards Ceremony (Gilroy Hall)
Show More
Show Less
26
Sep
2019
Yr 7 History - Task 2 (103,5,6,8)
Yr 8 Geography - Task 2 (GEO1,2,3,5,7,8)
Yr 8 Visual Arts - Task 1
Show More
Show Less